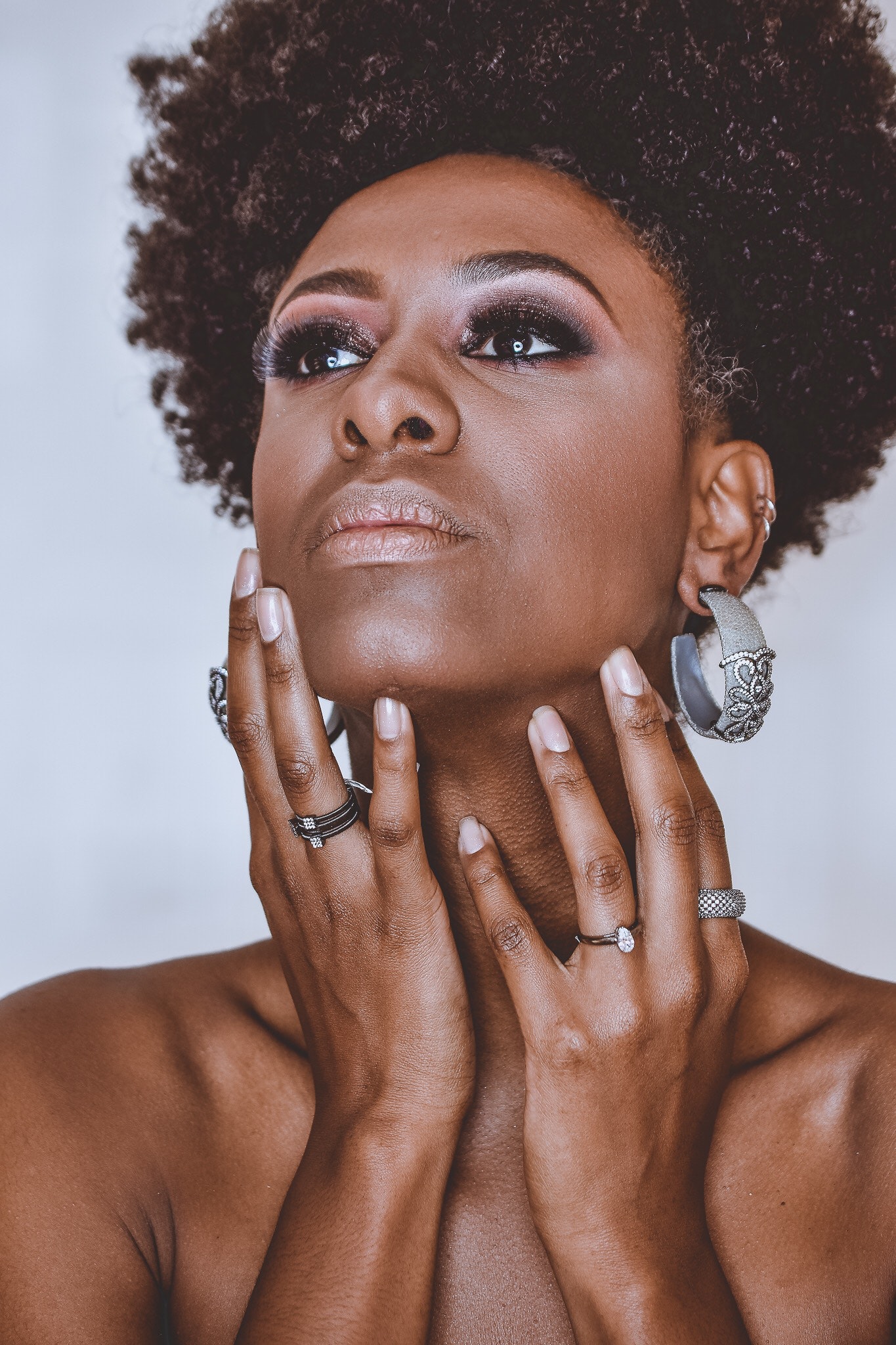 All you need to know about Black Skin
Where does black skin come from? How is it different from white skin? Does black skin need a special care? We are answering to all these questions in this blog.
Melanocytes are cells that produce the skin pigment called melanin, the melanin granules are more or less dark.
We all have the same number of melanocytes, whatever our colour is, however, the number varies by body part. For example, it is low on the palms of the hands and feet (if someone asks you why the palm of your hand is lighter, now you know what to say).
The main role of melanin is protecting the skin against UV pigments. It also makes the skin darker as when exposed to sunlight the body produces more melanin to better protect against UV rays.
Black skin – a high concentration of melanin
The melanocytes inside black skin produce much more melanin so darker the skin and the higher the melanin concentration is.
Black skin is shiny
Black skin produces more sebum which protects it, allows it to be more flexible, but it also makes it shine.
Sensitive skin
Black skin is rich in blood capillaries (small blood vessels), which promotes irritations and allergies.
Scars on black skin
Dark skin doesn't heal very well because there is a high number of melanin pigment which are very thick. When a pimple appears or a burn reaches it, these pigments react by leaving a spot or a bulging scar on the surface of the skin.
The texture and colour of these scars can gradually fade over time if you treat your skin with care. You should exfoliate your skin every week and apply daily a treatment with vitamin C on the scar lighten the area. For an immediate effect, you can apply a concealer to hide the mark.
Black skin is more protected against the sun
The melanocytes in black skin produce melanin, which more effectively protects the skin from the sun, the percentage of UV radiation that reaches the deep layers of the epidermis is less important (15% for black skin against 50% for light skin).
Skin cancer due to sun are very rare in black skin. But be careful, having a black skin won't stop you from having sunburns.
On the other hand, the sun causes pigmentation problems, which is the main problem black skin has to face.
When a white skin had a reaction, it often displays redness. For black and darker skins, it becomes pigmentosa. For example, after an acnea spot, the black skin heals and has a more intense mark. Or again: there is a drought area, the dead cells accumulate on the surface of the skin and can, again, be visible by staining stronger.
Black skin can easily be stained
Melanin is distributed across all layers of the black skin, so a simple spot can cause a scar or darken the skin.
Black people have no wrinkles!
Black skin is thicker and better protected from the sun because it produces more sebum than white skin, this is why black people tend to have fewer wrinkles.
However, black skin ages another way, in fact the number of melanocytes stop producing melanin, which does not distribute evenly on the skin.
Appear when problems of pigmentation, skin tone will not be the same color: dark circles darker black spots or white, dyed gray.
Skincare advice
Always moisturise the skin with a cream containing sunscreen in Winter and Summer (to avoid pigmentation issues)
Q&A
Are cosmetic products for white skin appropriate black skin?
Skincare products can be used on black skins if they do not contain perfume or alcohol. This ingredient can cause allergies and a risk of photosensitivity. Indeed, alcohol and perfume are exposed to UV through the skin, which causes chemical reactions that can produce toxic or allergenic.
However, make up, especially foundation is not appropriate for black skin as they contain white pigment which make black skins look ashy.
Why do black people have dry skin?
The rate of water loss – the total amount of water vapor loss through skin when there is no sweat gland activity- is higher on black skin than on white skin.
Why does black skin get ashy?
Ashy skin is caused by a lack of moisture, which leaves your skin dehydrated. It can appear on essentially any part of your skin. It's also common for the skin on your arms, legs, and face to become dehydrated and ashy. Black skin get ashy as the dryness is most noticeable than on white skin as it looks grey.
Can black people get skin cancer from the sun
According to dermatologist Angela Kyei, "if you're exposed to the sun, there's a possibility that you can get skin cancer. Whatever the colour of your skin. "But, darker skin tends to have more of a pigment called melanin to protect from the sun's harmful rays,"
Why does black skin get darker with age?
According to a study, pigmentation in African American skin decreases with skin aging
Do black people have thicker skin
Black skin is thicker and stronger than Caucasian skin, so its cell renewal thus is more frequent than Caucasian skin.
This thickness has two consequences:
-The black-skin heals poorly
-The black skin ages more slowly (a thin skin ages more easily)