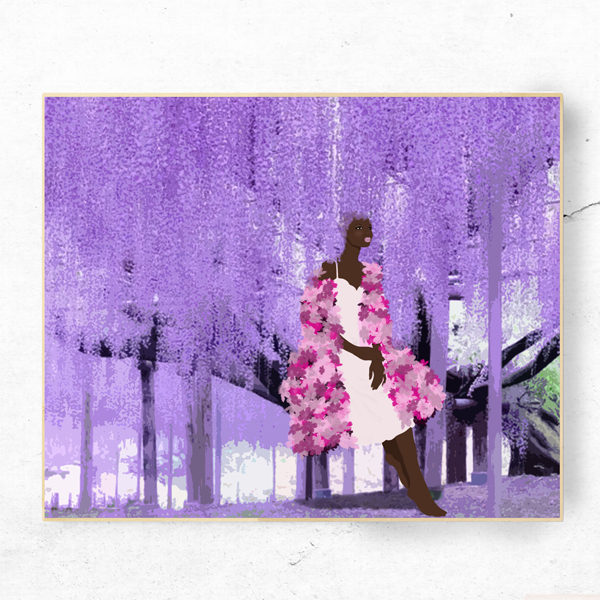 12 black art prints you will love that will fit your interior decor
African American art's history dates to the late 1800s and early 1900s, with leading black sculptors, Eugene Warburg and Mary E. Lewis, who worked both in America and Europe.
The rising part of African American art started in the 20th century, with the emergence of the "New Negro movement", when several black artists, writers, directors, and producers started to work on the same cultural tidings generated by African American art. This movement gave a new life to the American literature and culture.
Nowadays, African American art is still as freshening as it was centuries ago. Black art prints can be an exquisite and fantastic experience for your house or office décor. They are a mixture of classic and contemporary art featuring illustrations of black women, which you can find at Doria Adouke.
To help you find the best black art prints we have lined 12 colourful black art prints for your interior decor. All of these are unique, each bearing a special message, and will turn your house in a heaven with calm and serene environment.
Black art for the bedroom
1. Purple leaves contemplation art prints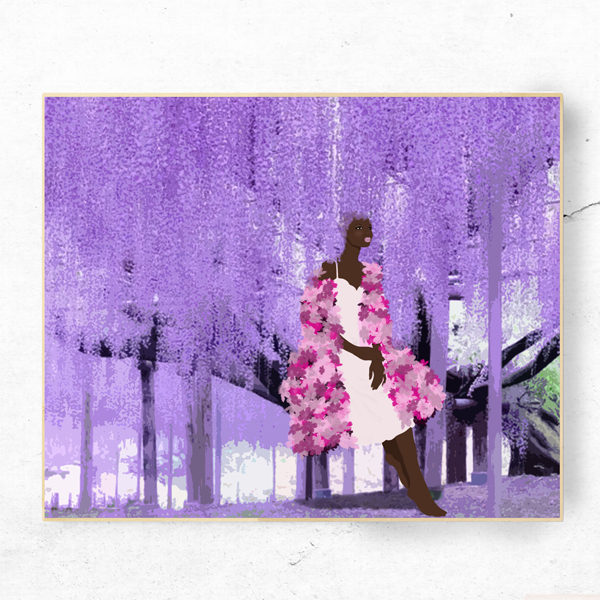 If you look at the colors of the image, you will see that each color reinforces the impact of the others. You can have this fantastic art print in your bedroom to enhance your motivation and keep yourself aware of the importance of ancestors. The color of the house must be white walls, or off white, so that the dark and brought background may look obvious.
Her calmness, combined with the growth, is a strange impact that will attract the visitors. For your home décor, you can add this art print on a light-colored, wallpapered wall. Make sure that the wallpaper is in contrast with the painting.    
2. Black girl magic art print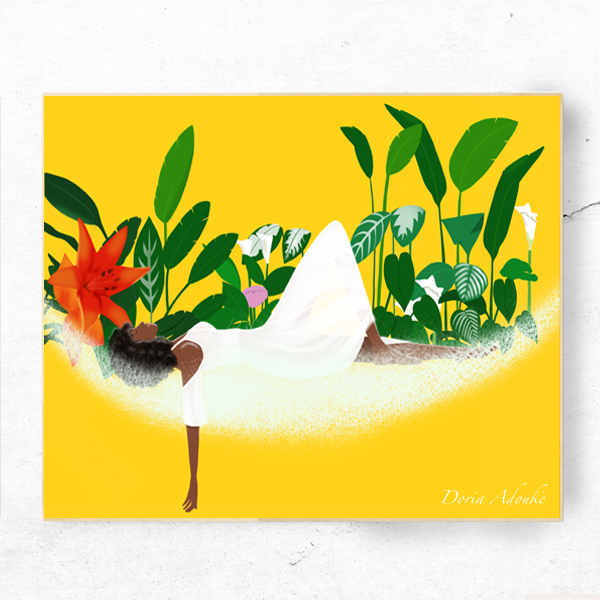 If you want to relax, then you must hang this wall art print in your bedroom. The black girl magic will give you the recommendation to sit or lay and think about the positives of your life. You can hang it right in front of your bed, just beside the dressing table. This amazing brightly colored painting will look great on a dark blue, dark red, or black colored wall. You can add some antiques to the wall to make it look even better, imagine some great wooden antiques beside this bright colored art print. It will give a classical look to your house.
The bold and bright background, with a calmly colored dress and brightly colored flowers, depicts the value of finding the right balance in life. Life is overwhelming around, but you can manage the stresses by looking at them and then wave them with a smile of humbleness.
3. Sleeping beauty art print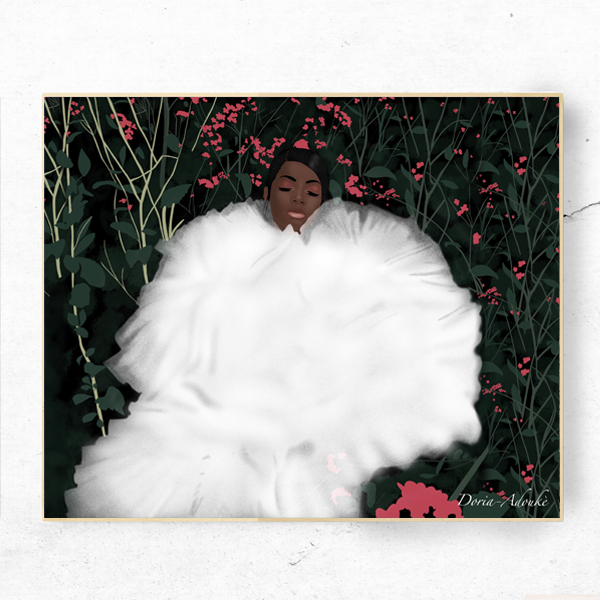 This art print would fit perfectly in the corridors or the guest rooms or your kids bedroom. It will look great if you have bright colored curtains. This sleeping beauty will give you a sense of relief.
The woman in it is lying calmly in the bushes, and flowers are all around her. She is permitting you to calm down and pause for rest. If your guests or children are stressed, so this art print will invite them to stop and rest. 
Black art for the living room
4. Black woman in a lavender field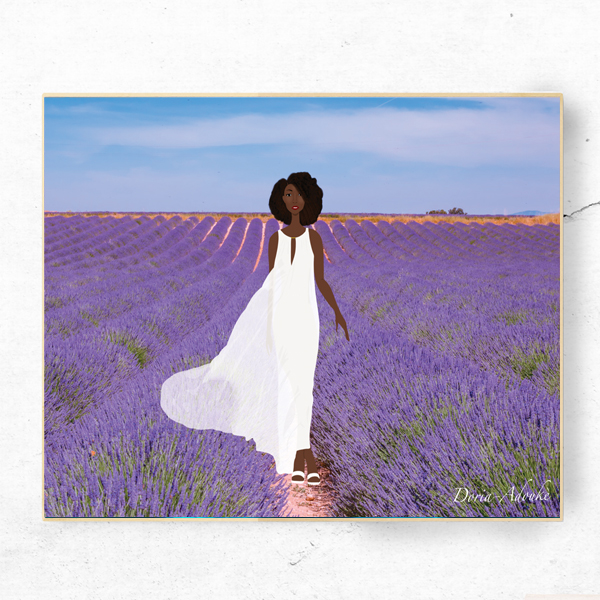 The freshness you feel whenever lavender is around is what the art print is portraying. This piece of art can be placed in the living room, so you and your family members can feel that your home is a place of relaxation. The color of the living room must be neutral, such as white or light blue. These colors will make the painting prominent on the wall.
The scents, the new tidings, and the beginnings are around the corner, and she is about to receive them with great dignity.  Her white dress symbolizes her elegant attitude; she is still as humble as she was on barren land. You will feel a sense of assurance while looking at this point as if it is saying that "things may take time, but sooner or later, you will be integrated into the world you wish to be in. 
 5. Black girl in Gorée Senegal art print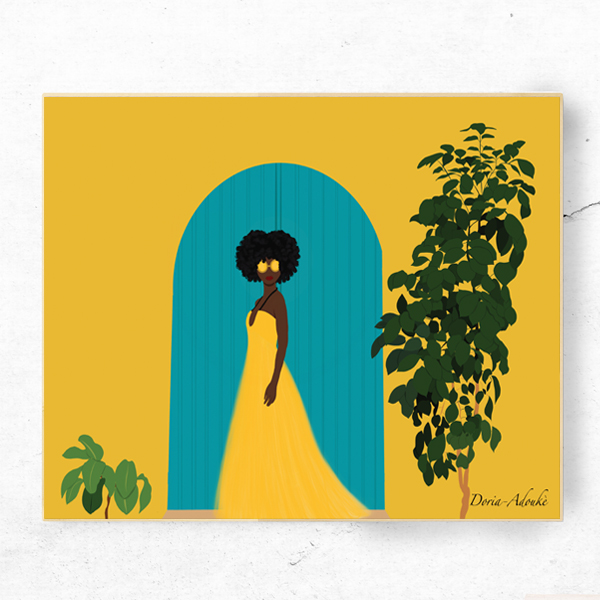 If you want to highlight the boldness of character, then this art print can portray your ideas very well. If you're going to put it in your office then do place it right in front of the entrance. It will give a bold and confident image. You can also add in to your living room to make it warmer.
The woman in the art print is confident; her attitude and body language say it all. You can have this amazing art print in your hallway and corridors, the color of the walls needs to be white and shades of whites for this particular painting.     
6. Black woman fashion illustration art print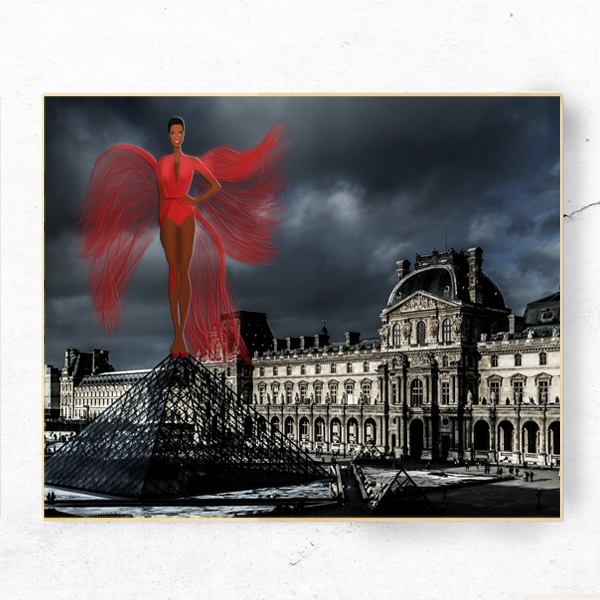 The woman in it is standing tall on the pyramid du Louvres in Paris. It shows her win, it is a metro city, and she is still not afraid of anything.
I would recommend you place this art print in your TV lounge, or somewhere you study. The art print has a dark background, but the only highlighted thing is the woman's character. This art print will look great on a green or light blue wall. Along with it, you can also add the wall hanging accessories or quotes to reinforce the concept.
7. Girl in a rain forest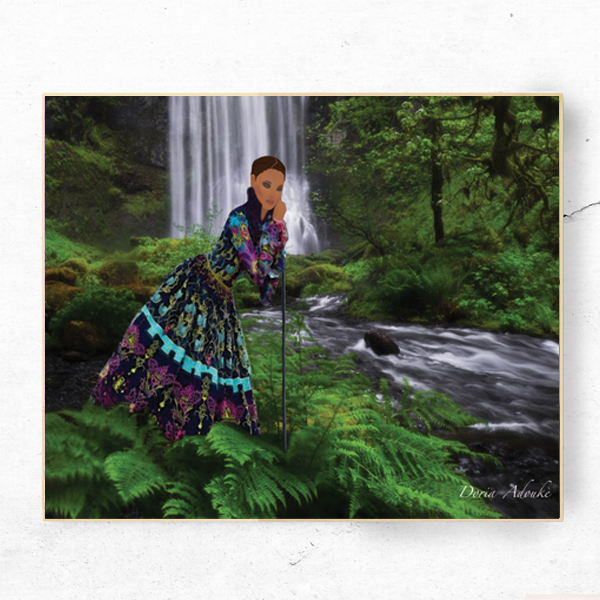 If you are satisfied with your life and acknowledge the beauty of mother nature, this painting is best to hang on a light painted wall. The reason to pick a light color wall is the boldness of the art print.
You can add a few more hanging plants around the art print to accentuate the art print effect. The confident lady in the image shows the bond with nature. You can relate to this bond and hang it in your living room to depict your ideas and relationship with nature.
Black art for the office
8. Black woman boss art print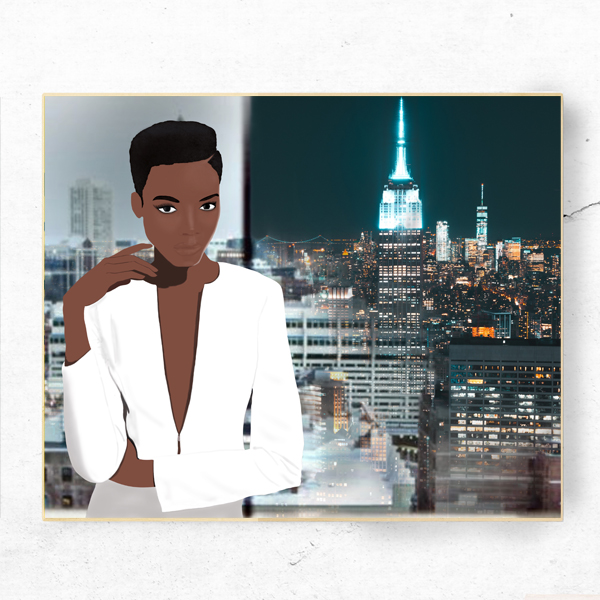 If you look at the woman's eyes, you will see the urge to rise and break society's limitations. She is sitting in an office, working, and behind her, it is a lit-up city.
You can show your passion and boldness through this Art print; it will look the best in offices and meeting areas where you want the employees to feel the power of determination. The most suitable house color for this art print is white, yellow, and off-white. You can add a few more wall hangings to make this very idea more impactful. 
9. Emerging Ballerina Art print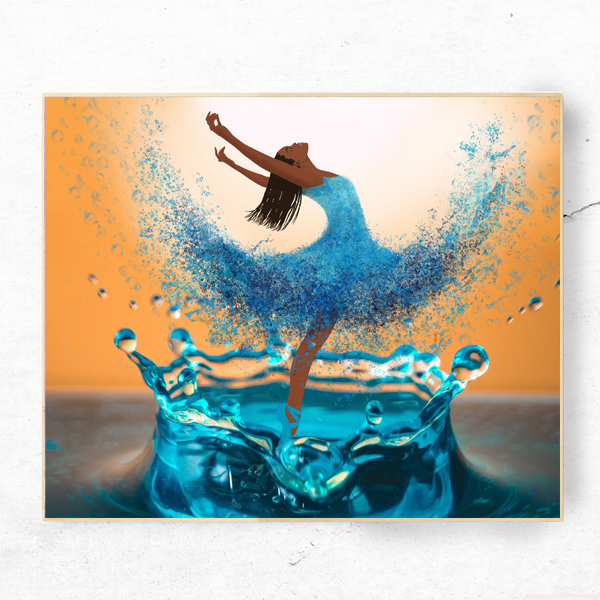 It is an amazing piece of African American art; both the water and the body language of the black woman show how she is ready to rise. The best place to hang this in your office room, or your study room, where you need a constant motivation to work hard. To make it look unique, you may think of a light background. The color of your wall and house where you will place this very painting should be a dark and bold color, red paints or wooden walls will compliment this interesting piece of black art print.
The artists have picked the ballerina plot to emphasize the grace of a lady. She can enchant others while moving to her decided destiny.
Black art for the hallway
10. Black girl lifestyle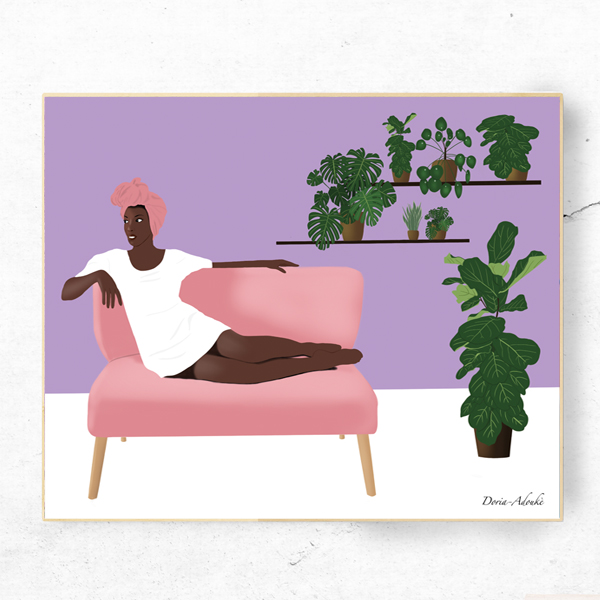 This art print is best suited for the corridor right at the house entrance, office, or restaurant. If you want someone to see how calm you are in your life and house, this can be the best portrayal.
The woman's body language is quite appealing, she is quiet, tranquil, but at the same time, her hand shows that she is fearless, open to whoever judges her. If you have this kind of attitude and want the world to know this, then hang this art print right at the entrance of your house on a light-colored wall.
11. Baroque art print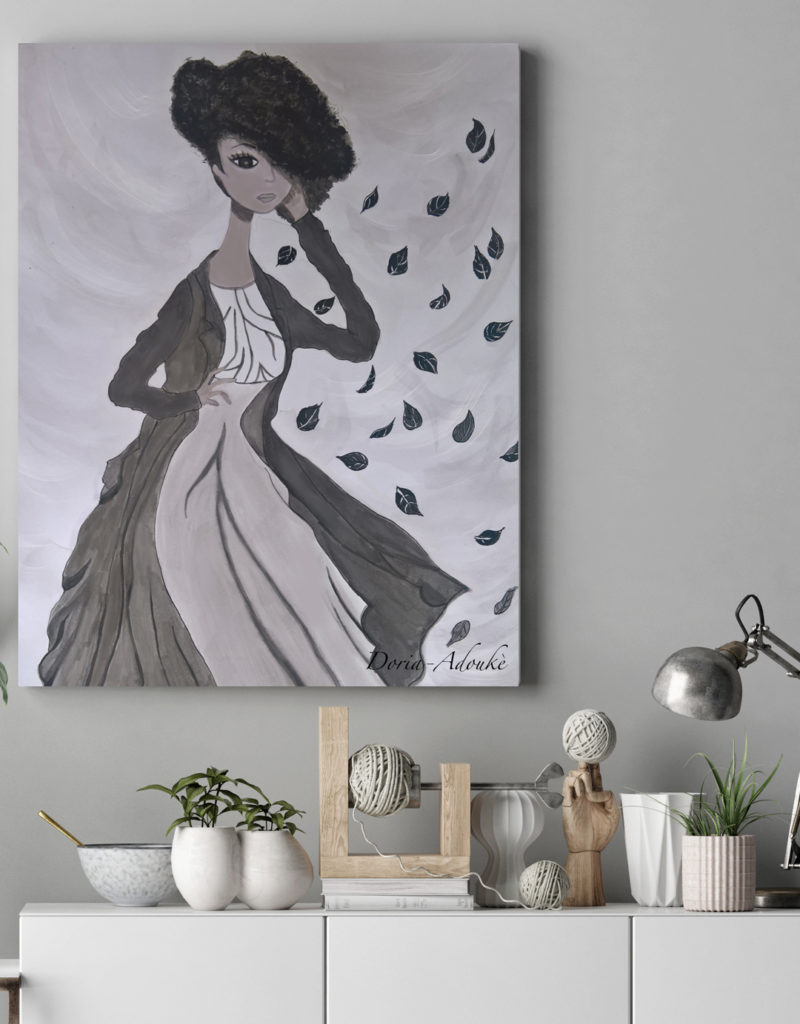 It is a poised and serene art print, it will suit the big walls, where you will not hang anything else, say a wall between two doors. The woman in the art print is trying to hold herself against the gusty wind. It shows that she is a woman of today, who knows her worth.
This amazing art print will suit bright colored walls, if you like wallpapers then try to pick a design which is wide and expressive, this art piece will in crease the beauty of that designed wallpaper and your house.
If you wish to sustain a determined and strong environment at your place, then this art print can be the one to keep your spirits high. If not in the living area, your growing kid needs this moral support to struggle against the bitter parts of life.
12. Afro-asian Art Print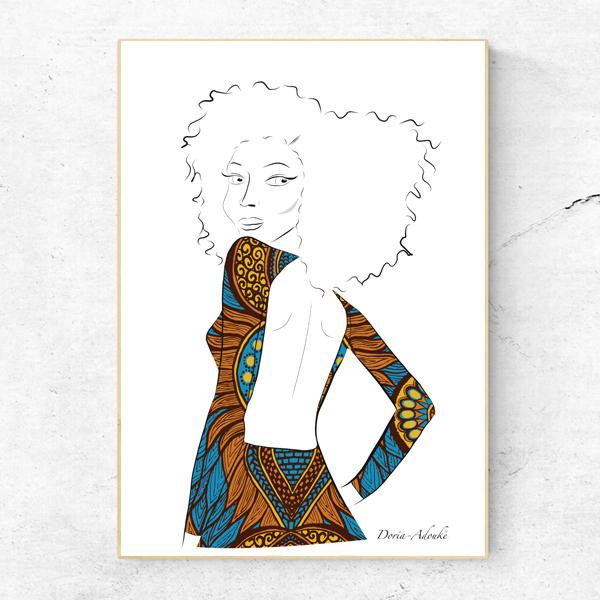 This woman in the art print is depicting the strength of personality and character. You can hang this art print in your kitchen, where you feel most tired when you come back home, or in your bedroom right at the side of your bed and wardrobe.   
The idea of the art print is depicting the theme of strength. It is your image and concept of your personality that is making you unforgettable. The blue, emerald and orange colors in her dress are dependent on the beauty of the woman. It is the outer world that needs beauty. You can hang this painting on a whitewashed house, it will increase the beauty of your house, especially when hanged on an empty wall.